I got a set of Meteors from Vindaloo, they were in a right old state, pitted, bubbling, curbed, Well knackered.
So i have put this "how too refurbish" together as a special request from "mamasboy".
Obviously if you have unions or other types of wheels, then there are more crooks n cranny's so may take longer.
One thing i will recommend is to get hold of an electric mouse sander, sanding plates in two grades, coarse (to remove bubbling etc) the other is a fine plate to smooth out the wheels.. Filler to fill any deeper marks, (i didnt actually have to use any as i built the paint up in several coats and it worked out well). you will also need a brush to get the dust off.
Also please get your self a dust mask, and ensure your garage (or living room) is well ventilated, But i dont recommend using your living room lol
Ok place the first wheel on your work bench, i found my black & Decker work mate was spot on to work with.
Get to work with the mouse sander and the coarse plate to get rid of all the, while the sander make light work, it will still take a while if you wish to do it properly.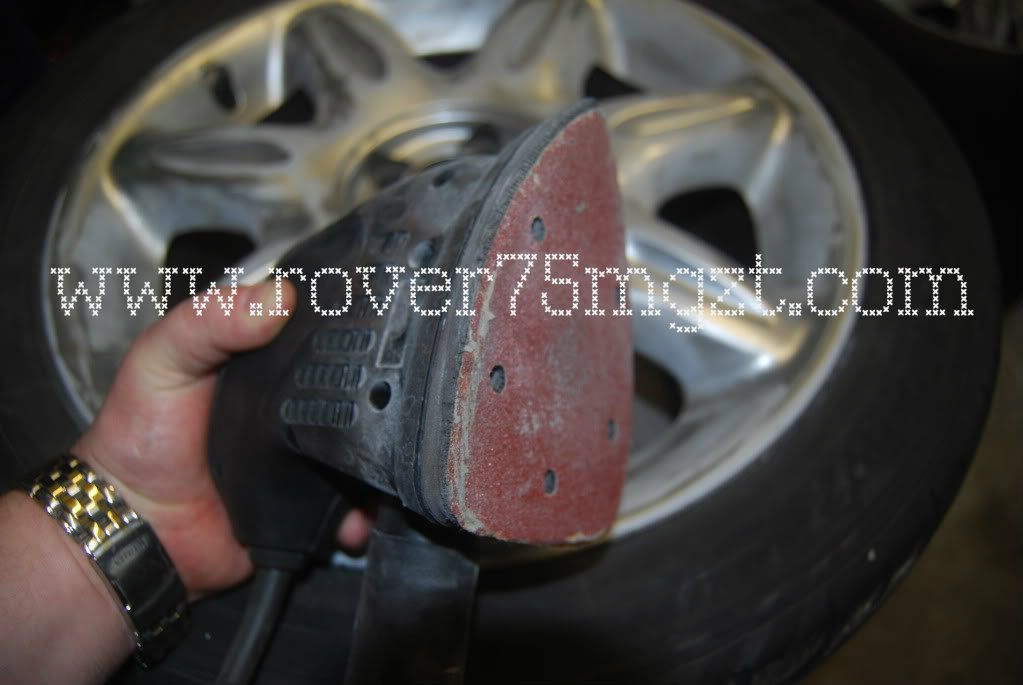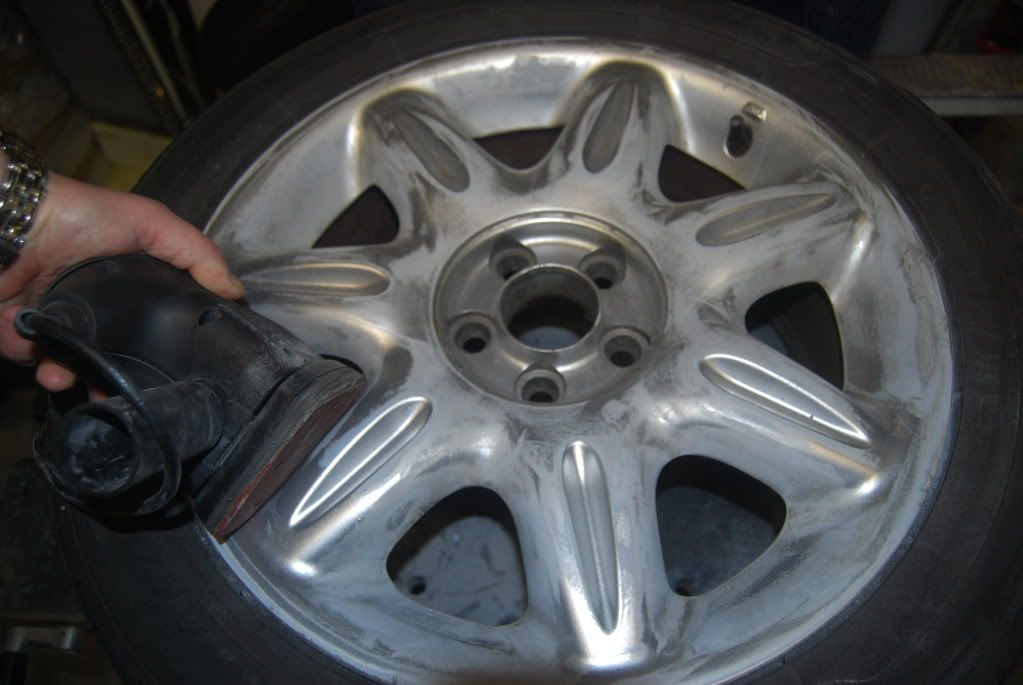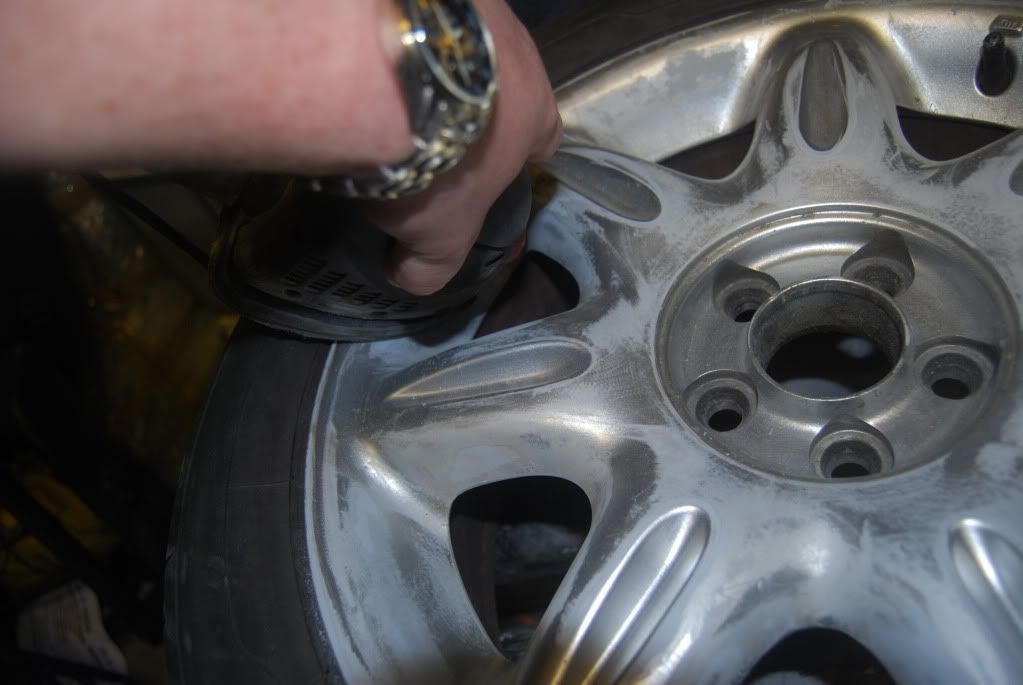 Let the sander do the work, no need to press on too much, when you ahe gotten into all the crevises and corners and you are happy that its smooth enough (remember to check for unlevel paint).
The get to work on the next wheel, took me about 4-5 hours to get the wheels done at this stage, they should look like this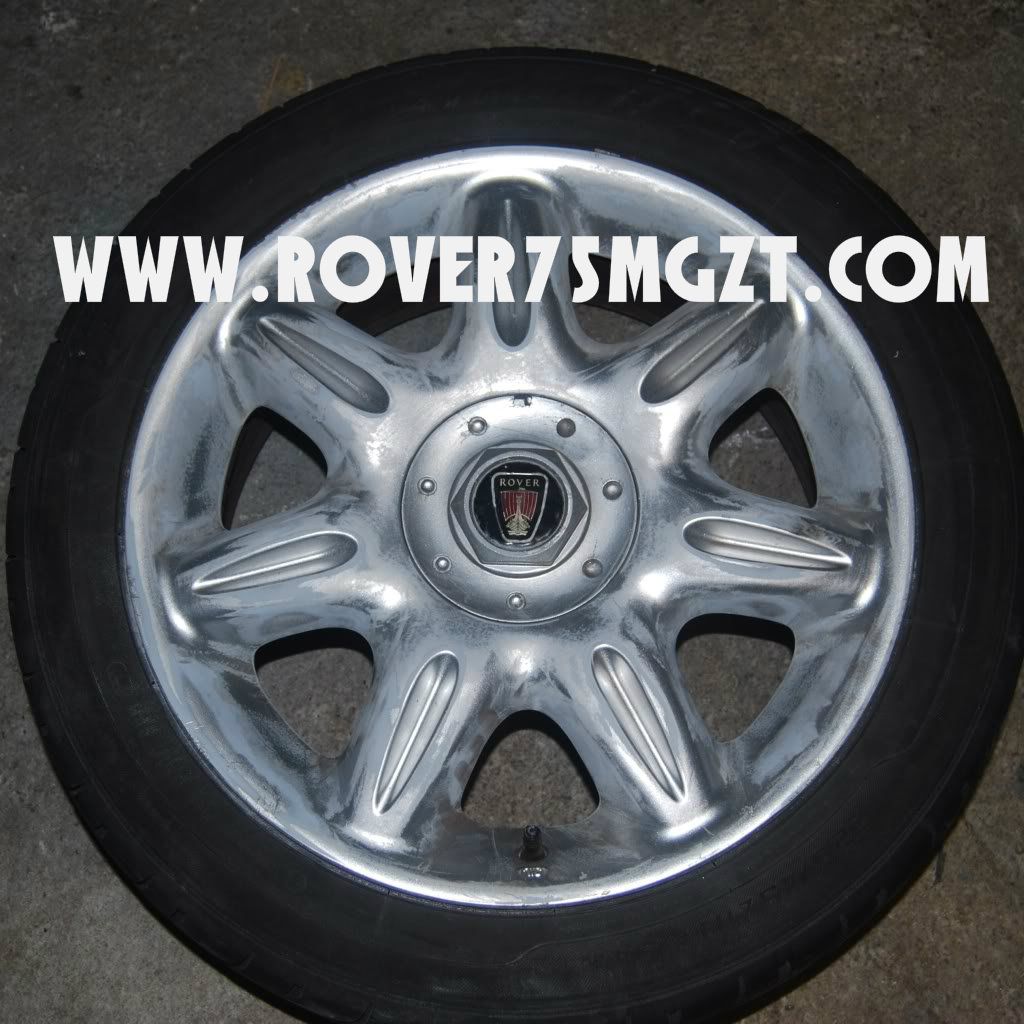 ok time to paint???....wrong
Swap the course plate on the sander for the fine one, while you think your wheels are smooth, they are not smooth enough
so sand all the wheels again , the reason i didnt do each wheel at once coarse then smooth, as i didnt want to keep changing plates and i may have been temped to leave the swapping, the way i did it was more methodical forme, but you can do it any way you want.
The fine paper actually polishes the finish some what
again the more time you take the better your results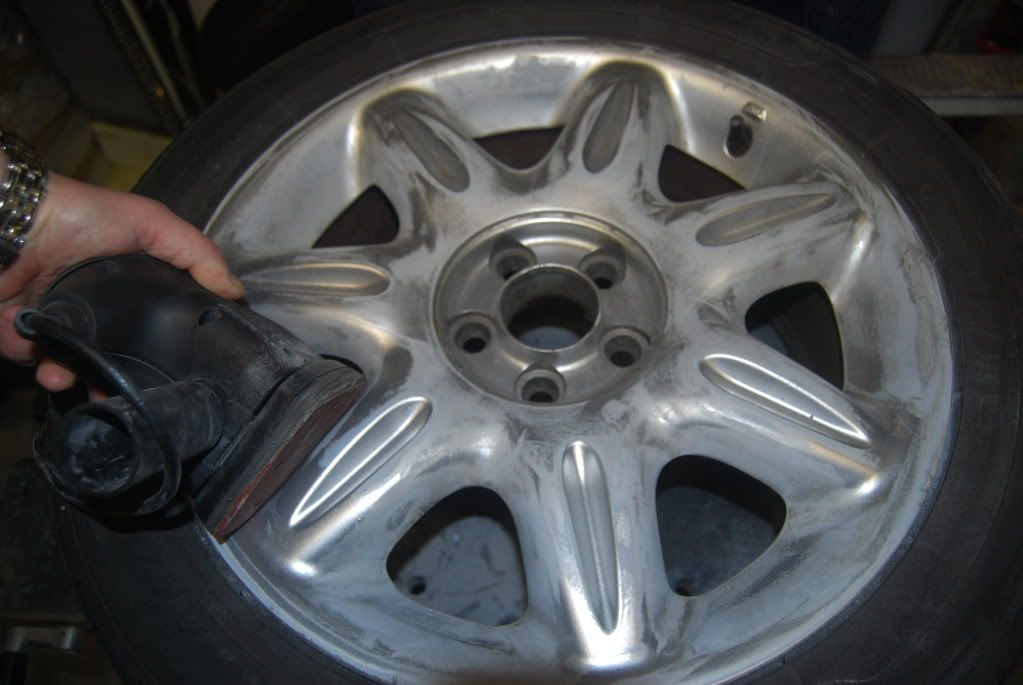 once all wheels have been done, you now have a choice to wire brush the rears of the wheels, i used a drill and brush for this.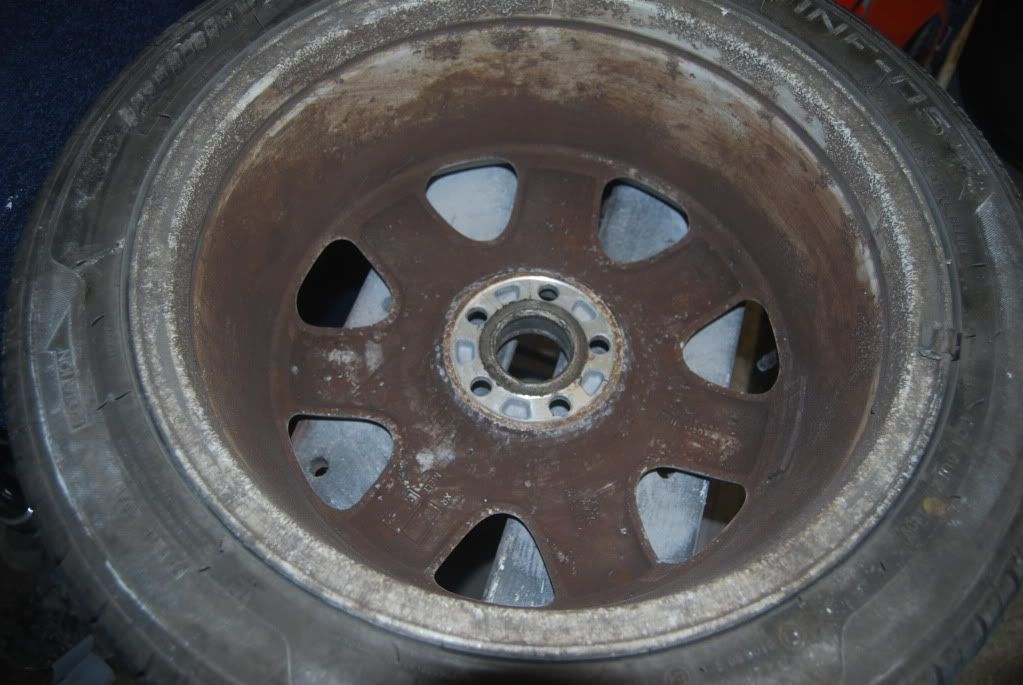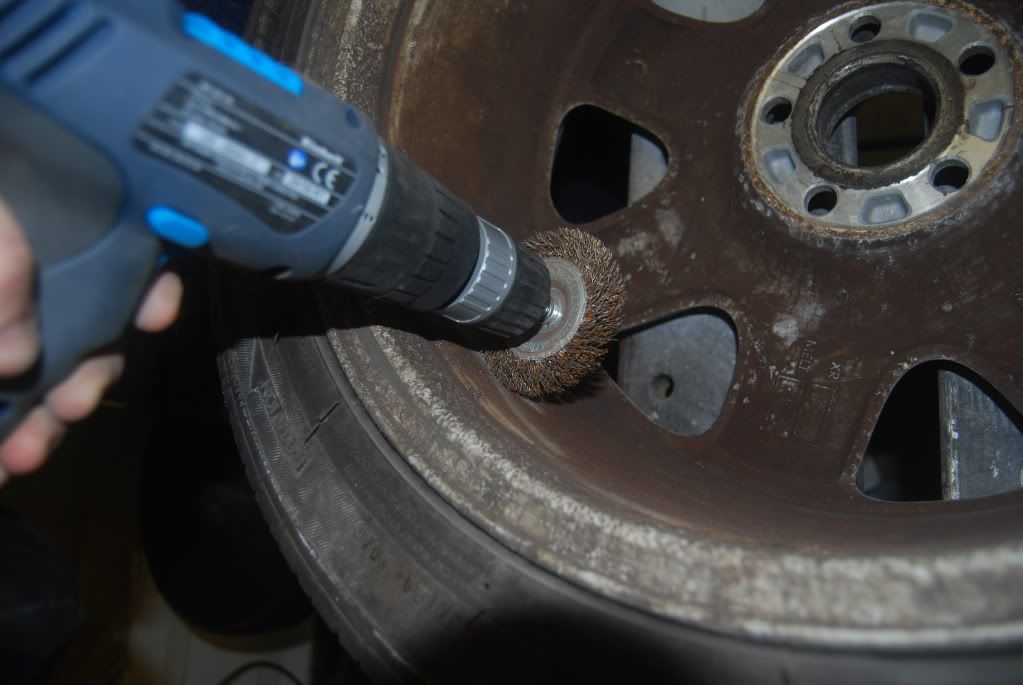 when you are happy with them, brush all the dust of, great on a windy day as its all blown away when you do brush off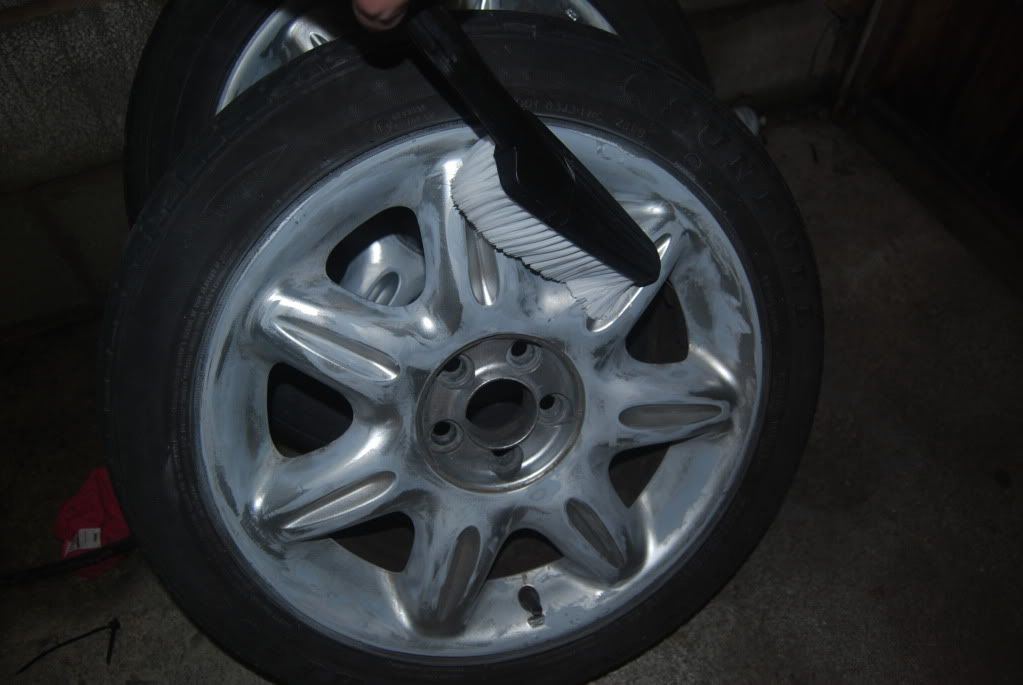 Time to paint?....... not yet
Time to mask the wheels, (unless you have taken the tyres off) There are two ways you can do this, one i tried and worked well but i preferred the traditional method.
1. using news paper and masking take, takes a while but worth it.
2. Club member Wuzerk gets the credit for this one
Quote "BACONBUTTYMAN, There is no need to mask the wheels, I have painted many with the tyres on by painting the sidewalls carefully with neat washing up liquid. After painting you just need a bristle brush to wash the sidewalls and they come up like new."
Wuzerk
The way i will describe is option one.
in strips of about 6 inches, place the masking tape along the rim of the wheel over the tyre, with about 2-3 mm of the tape over lapping the alloy rim, dont stick down too much yet, do about 4 strips then get a screwdriver or pen and run it on the outer rim of the alloy, this will fold the lip down between the tyre and alloy rim
Also thank to CMWI for reminding me, i let the tyres down to make masking easier, gives some leeway when getting the tape in to the recess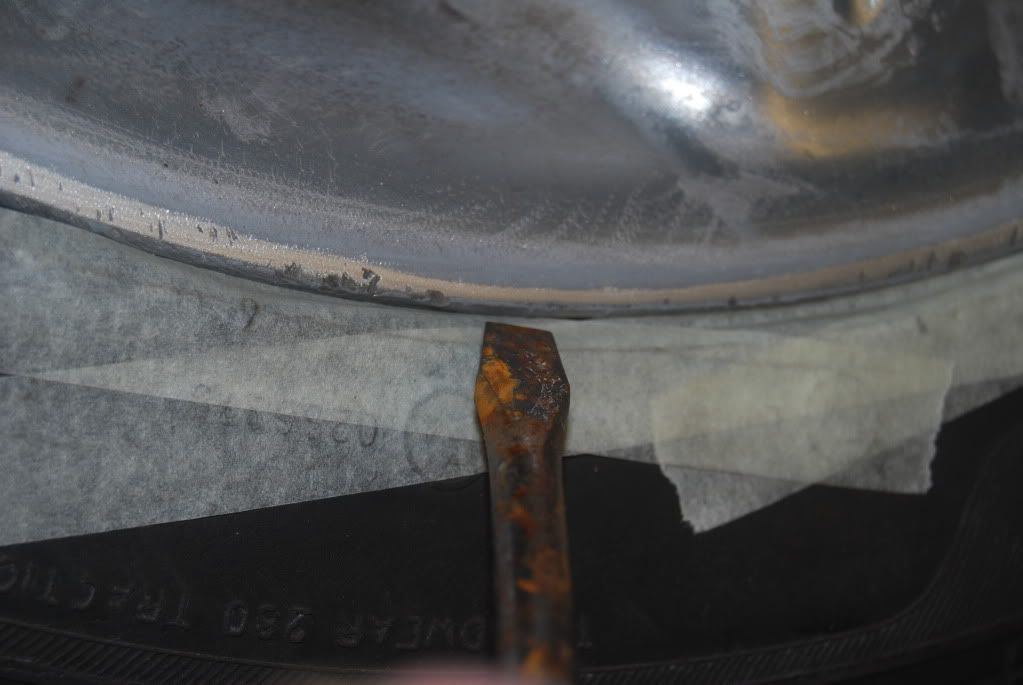 do the whole wheel like this.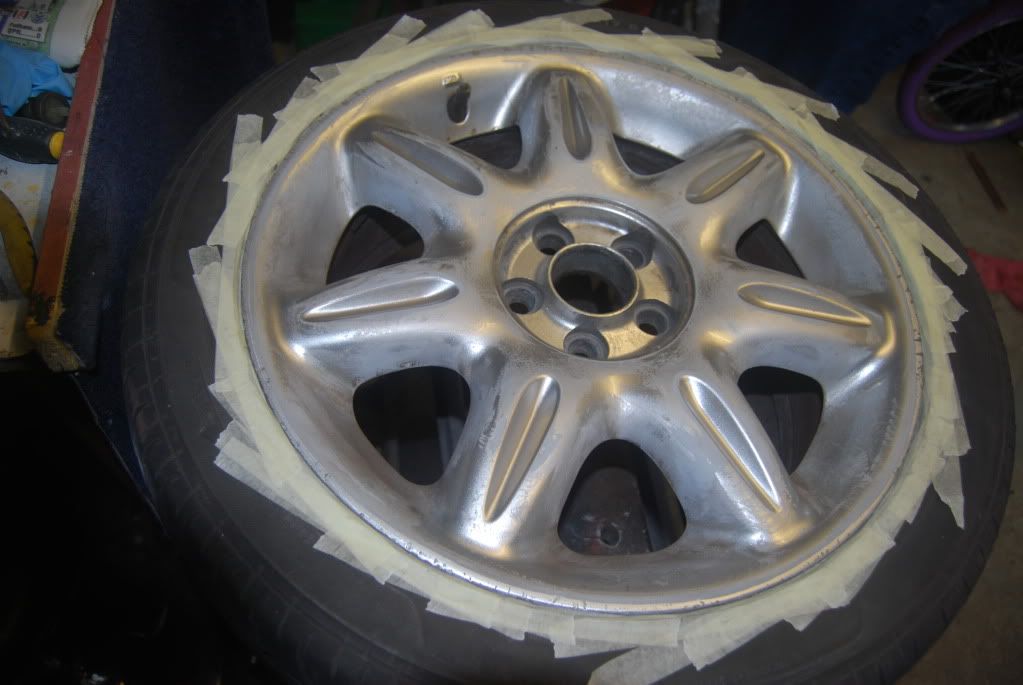 Then get your news paper and fold each page in 2, start matchin the paper up to the tape on the wheel and do this all the way round.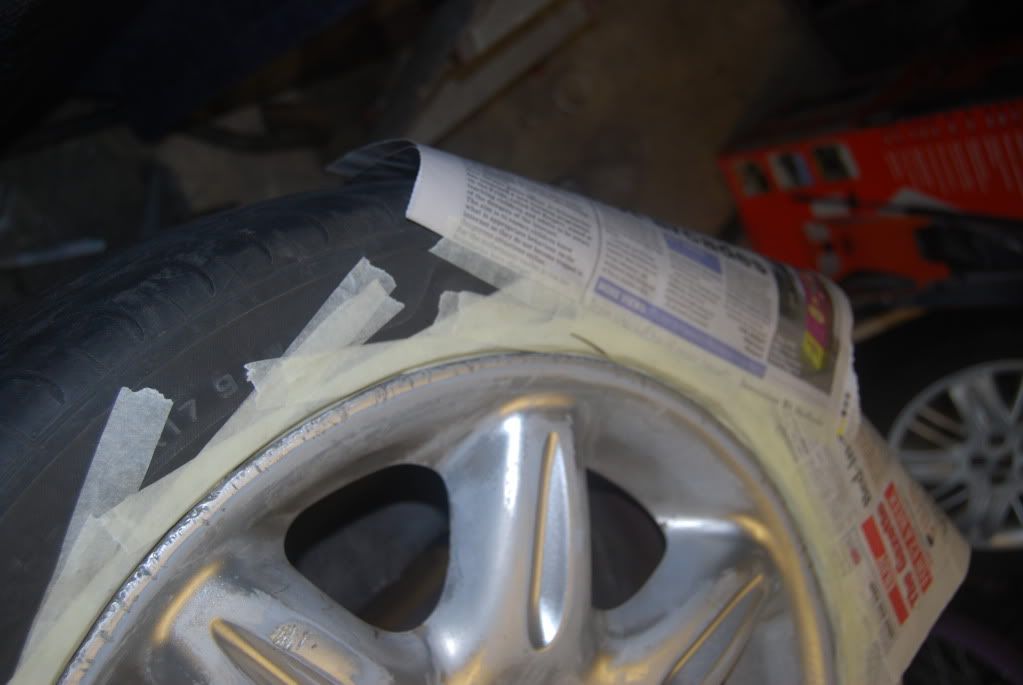 Now to stop the paper flapping about, plate some masking tape around the tyre, also don't forget the inflator valve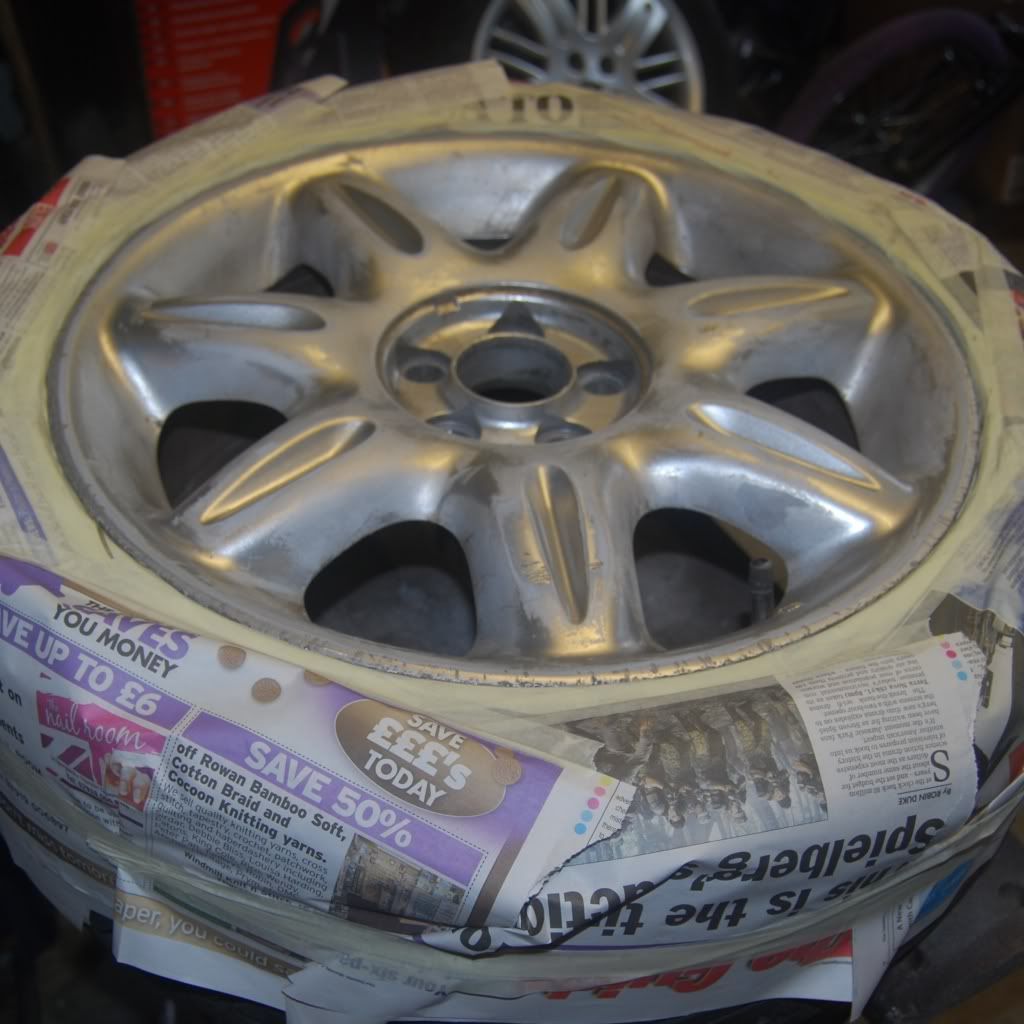 Now time to paint..... yeah
There are different color's of under coat, I used grey.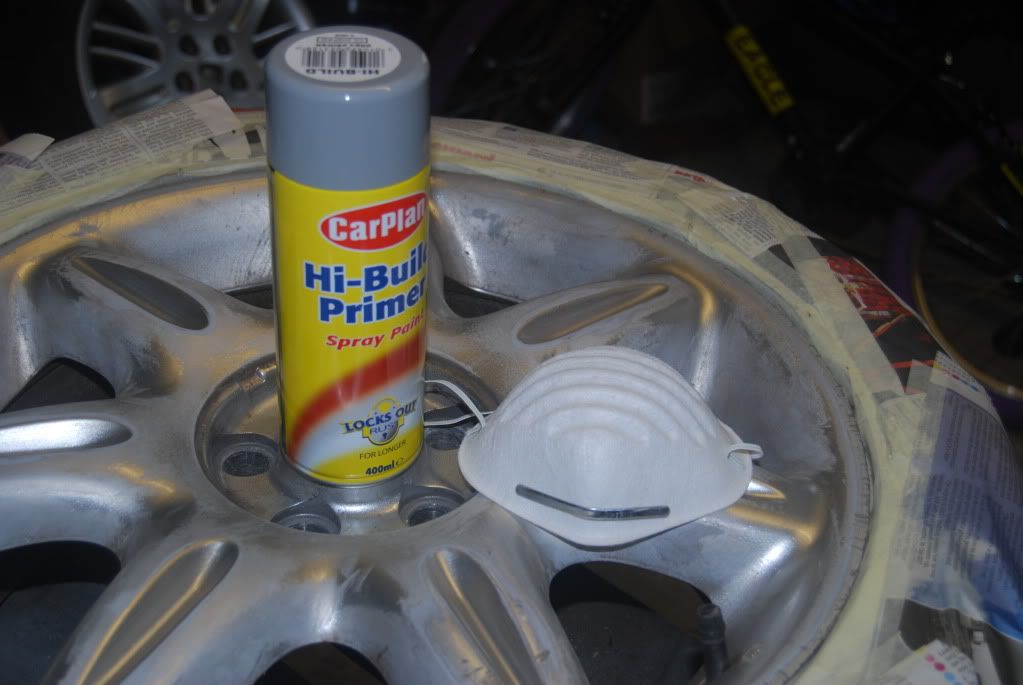 Undercoat is quite easy to do. The secret is many light coats, dry between each coat, After each coat i used a hair dryer to dry it.
appliy the paint from about 7" in a smooth cross ways motion, imagine a cross going through the wheel and do each coat from each point of the cross, this will give the wheel an even finish.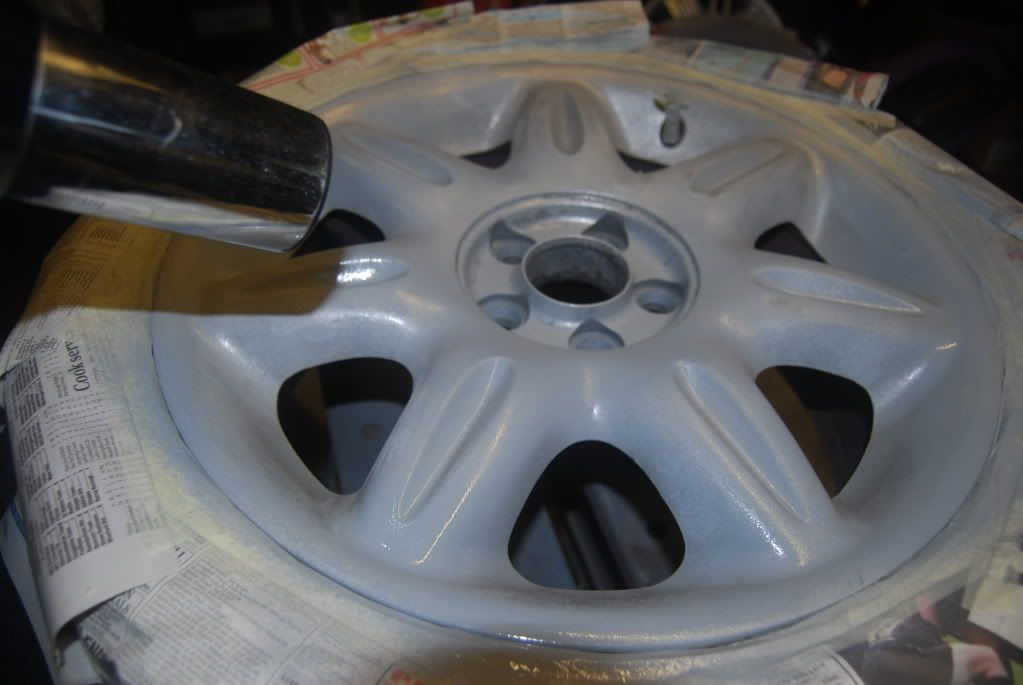 when you have applied about 4 coats it should look like this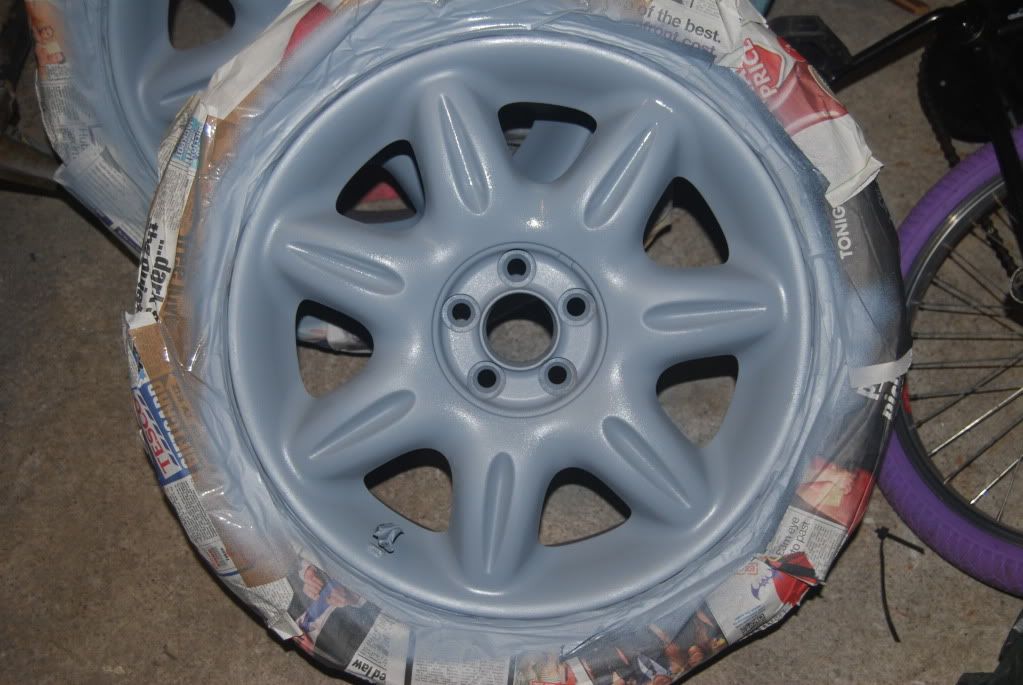 When all wheel are done, go have a brew, my recommendations is let the piant dry, i left it till the next day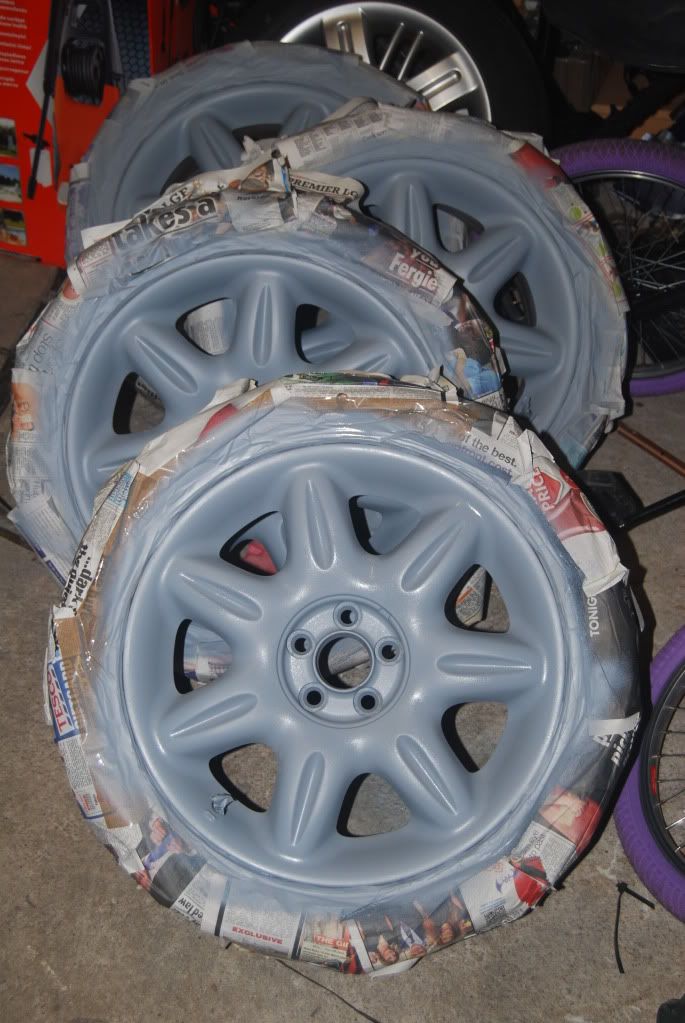 ok, now it's time to Paint with the Sparkle Silver.
Same painting method as the under coat, i used one tin of undercoat, but i used two tins of paint.
Before you actually paint you can use a very very fine sand paper to get rid of any baint blobs you may have, but if you take your time with the light coats you will find you wont have any blobs
Ok, this paint Dries in 20 mins, i left it about two hours though, again check for blobs, but if you used the light coat method you shouldnt have any blobs.
dont forget to dry each coat with the hair dryer.
Ok, now time for laquer, i used two tines, the more you use, the shinier your wheels, again light coats, but this takes longer to dry so BE PATIENT.
Same method, light coat, dry, light coat etc, concentrate on two wheels, use the full tin, took about 90 mins to do the 4.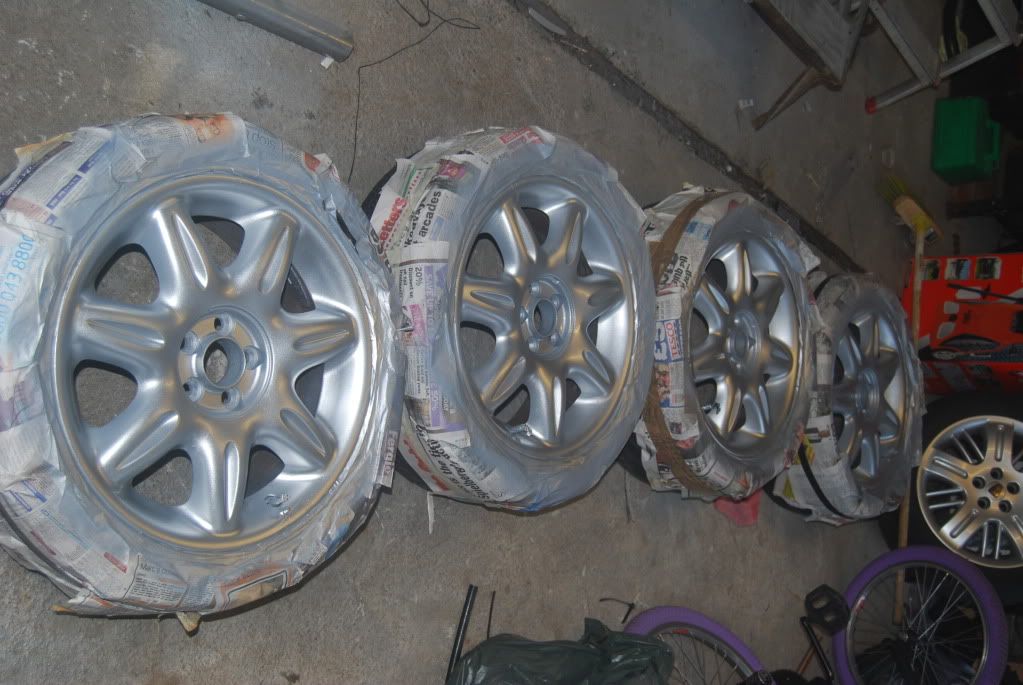 let the final coat of lacquer dry before removing the masking.
when you do, your result should be this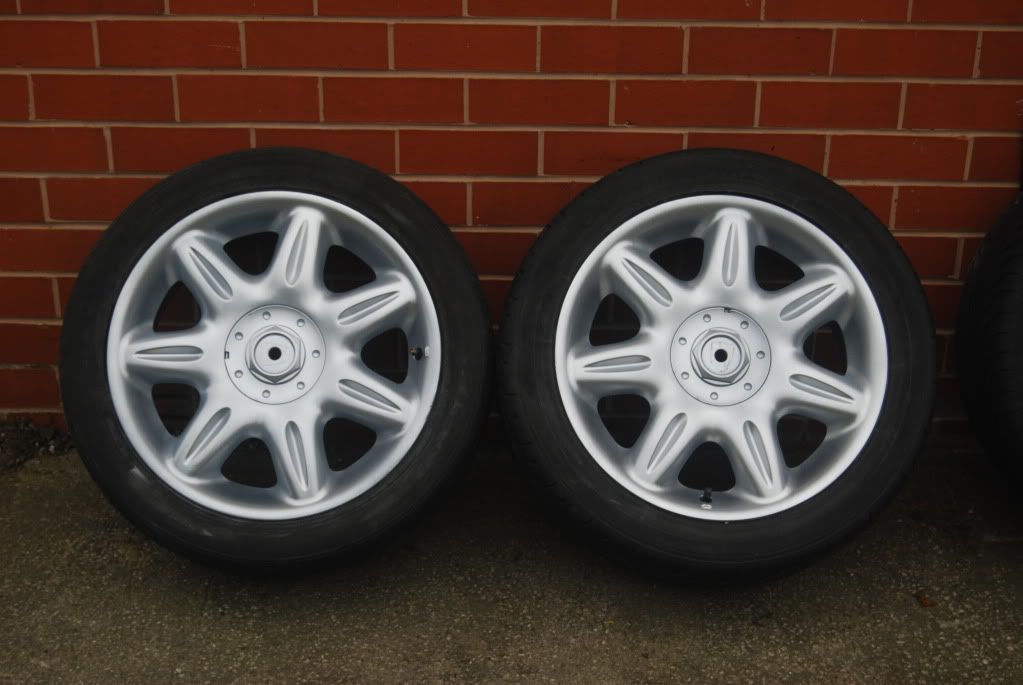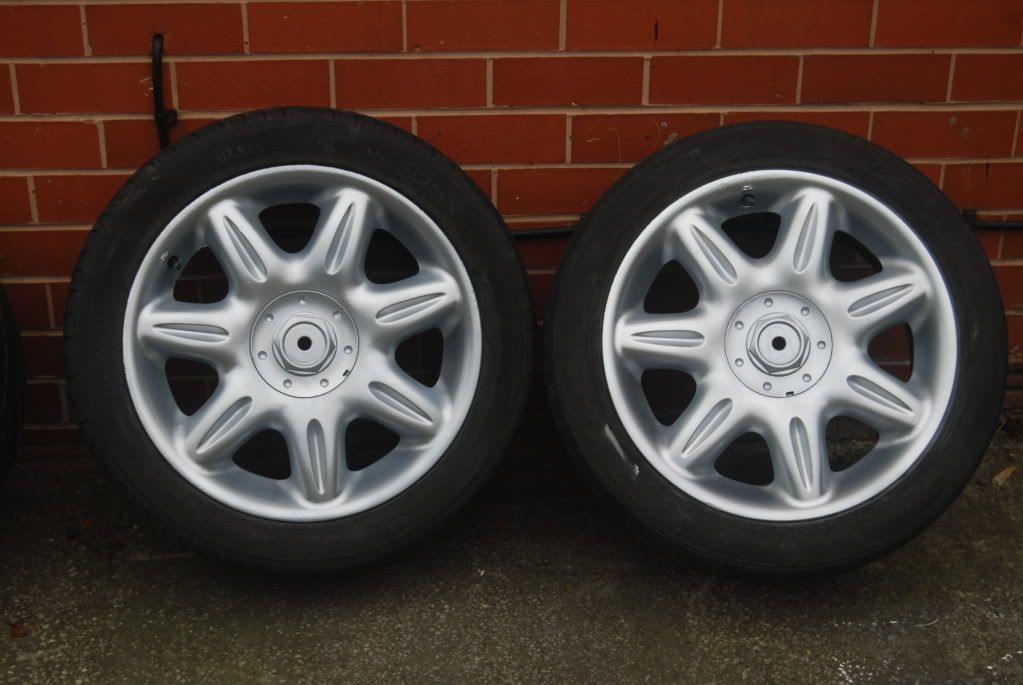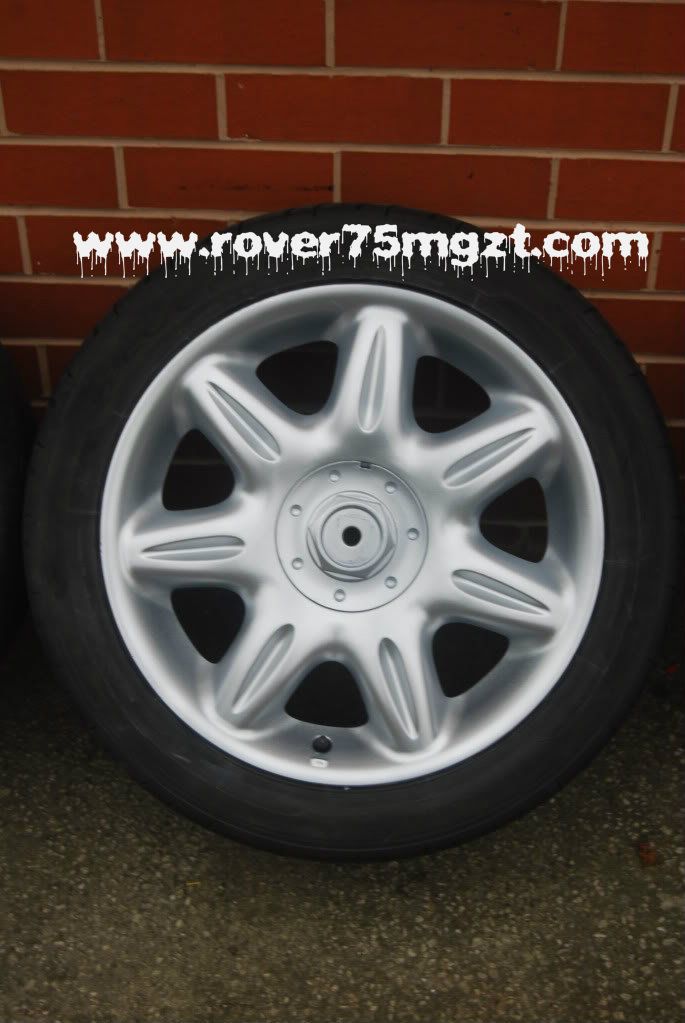 Stand back and smile.
hope this how to helps you guys and gives you the confidence to have a go your self
Disclaimer:
You are responsible for any work or modifications carried out on your car and you undertake any such work at your own risk. Neither the MGR Owners club nor the original authors in this thread can be held liable for anything that may happen as a result of you following this thread's posts.
Any modifications should be reported to your insurance company.